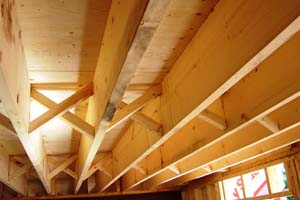 Conventional Floor System - residential framing project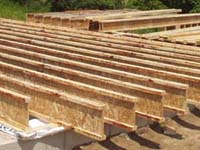 Engineered I-joist Floor - Residential application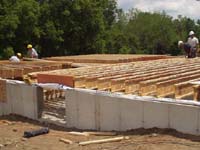 Floor system being installed in single-family building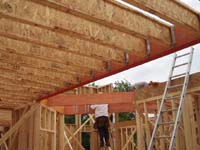 Second-floor being installed in single-family building
Tampa Hall engineered wood floors are available as part of our complete framing packages or as a separate item.
Installation (optional) of our framing packages is available from us throughout our local domestic market area.
We provide roof & floor solutions for residential, commercial and agricultural projects, using our extensive range of I-joist, open web and LVL beam products as well as timber connectors.
All of these engineered products deliver high performance, value and peace of mind to our customers.
Your floor system is designed carefully and delivered to the site promptly.
An important note on bouncy floors!:

Have you ever been in a building where the mirrors on the dressers or the glasses in the china cabinet rattled and shook whenever a person of typical adult weight walked across the floor? This is a prime example of how the lowest price isn't the best value.

Two things have to be considered in designing your floor. One is STRENGTH; the other is RIGIDITY. And they're not the same thing. A floor that is strong enough will carry all the design loads safely. But unless it's also rigid enough, it will be too "springy" and will bend or deflect too much, causing bouncing when moving loads go across it. It costs a bit more to increase the rigidity of your floor, but the value gained is tremendous in terms of your comfort. Ask one of our engineered floor designers about the deflection question.

Lowest price—or best value; they're not always the same.

Our quality standards are applied consistently and rigourously to our engineered floors.