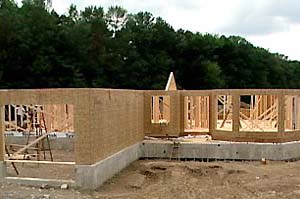 Wall Panels for Residential Project - Ayr, Ontario

STANDARD PANELS


The majority of our walls are manufactured as hollow-cavity (uninsulated), ready-to-install panels that are composed of wood studs, plates, proper lintels, window and door openings and exterior sheathing of your choice.

Lumber is either S-DRY or KD, and in some cases it is heat-treated as well, per your specification.

Lumber grade is SPF No.2 and better. Hem-Fir lumber is also available for sufficiently-sized orders, if requested.

Download R-WALLŪ (TCSP) brochure (PDF).